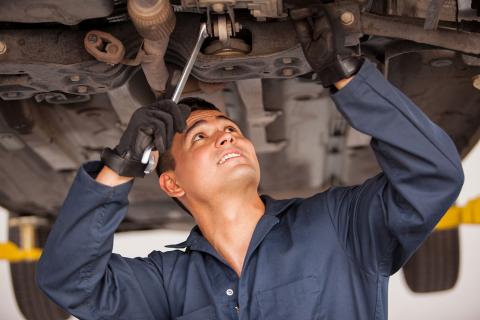 The powertrain of your vehicle consists of the engine, transmission or transaxle, and rear differential if you have rear-wheel drive. If you have a gas/electric hybrid, an electric motor or two may also be involved, as would the battery pack. And if your vehicle is all-electric, your powertrain would be the electric motor and the battery pack.
This system is what moves your car. The engine uses fuel to generate power; that power is either multiplied or distributed through the transmission, and then it reaches the drive wheels via a differential or transaxle.
Drivetrain issues
So, you can clearly see that if there is a drivetrain issue, you may not be going anywhere! Sometimes you'll notice a lack of performance, and that might be something simple that needs adjustment or other attention. In some cases, your vehicle may not move at all, indicating a very serious issue that needs immediate attention.
Whatever your powertrain issue, we can diagnose your problem and give you the information you need to get back on the road! With our factory-trained and system-certified technicians, pinpointing your issue is what we do best. You'll quickly know the nature of your issue, and what it will take to repair it to a safe operating condition.
We only use quality replacement parts
Using only the highest quality replacement parts, we take pride in our work because we know our reputation is critical to our success. Please let us know how we're doing! Feel free to call or stop by at any time and let us know how you feel about the services we've done for you. Even though you may first find us as a new customer, we hope you'll drive away satisfied and happy to refer us to your friends!
At Auto Smart South, your complete automotive care center in Wichita, KS we install only quality replacement parts. Give us a call and let us help keep you safely and economically on the road. We serve Wichita and the surrounding areas.