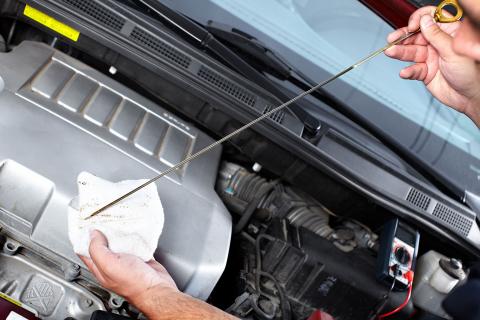 An oil change is like a transfusion of new life into your vehicle. Over time, oil can lose some of its chemical properties that are designed to reduce corrosion and increase the lubrication in your engine. In some environments, dust and dirt can also find their way into your crankcase, so a regular change of your oil and filter are paramount to the long service life of your car or truck.
Maintenance schedule
The manufacturer of your vehicle sets the maintenance schedule based upon average use in average conditions. We can help you to stay on schedule for this maintenance, or if necessary, advise you if more frequent oil changes are indicated. Clean oil is the lifeblood of your engine, so frequent changes will ensure a long and trouble-free service life.
Between changes, check your oil to make sure there are no leaks, or changes to the oil itself. If low, use only synthetic motor oil as listed in your owner's manual. If it has a milky whiteish color, stop driving the car and have it brought in immediately, as this is an indicator of impending severe engine damage.
Long service life for your vehicle
Using synthetic oil is key to a long service life for your vehicle. Synthetic oil resists contamination and will suspend all dirt particles so they can be picked up in the oil filter. This results in minimal wear on engine components, so they'll last much longer.
With each oil change, we'll also check on your other fluids and filters, and will check your suspension components for proper lubrication. While some parts are "lubed for life" from the manufacturer, others will require occasional reapplication of the proper lubricant to ensure a long life. When it comes to your suspension parts, grease is the word!
For best results, talk to us about a maintenance schedule for your vehicle. With regularly scheduled maintenance, your vehicle will never go beyond the manufacturer's recommendation, and we can inspect your car for other impending service issues before they occur. We're here to keep your car safe and sound for as long as you wish to enjoy it!
At Auto Smart South, your complete automotive care center in Wichita, KS we install only quality replacement parts. Give us a call and let us help keep you safely and economically on the road. We serve Wichita and the surrounding areas.