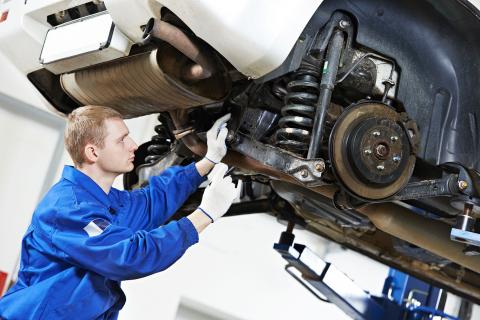 AXLES transmit the power of your engine to the drive wheels. They are usually set into the transaxle on a front-wheel drive vehicle, or into a differential if the vehicle is rear wheel drive. Modern all-wheel drive vehicles will typically use both.
Axle issues usually become noticeable due to vibration, noise, or gear oil at either end of the axle itself. If an axle fails at speed, it can be extremely dangerous, even life-threatening. A noise that increases with the speed of the vehicle can also be an axle bearing being damaged by a lack of lubrication. If you have any of the symptoms of impending axle failure, get your vehicle serviced immediately, and it would be wise to have it towed into us for immediate inspection.
We will meet and exceed your truck service expectations
We at Auto Smart South want to be your first and only choice for auto and truck maintenance and repair services. Our friendly staff and professional technicians are here to do everything possible to meet and exceed your truck service expectations! We know you must trust your car or truck to get you and your family from place to place safely, and we want you to know that we'll treat your vehicle with the same care as if it were our own.
Using only the highest quality replacement parts, we take pride in our work because we know our reputation is critical to our success. Please let us know how we're doing! Feel free to call or stop by at any time and let us know how you feel about the services we've done for you. Even though you may first find us as a new customer, we hope you'll drive away satisfied and happy to refer us to your friends!
At Auto Smart South, your complete automotive care center in Wichita, KS we install only quality replacement parts. Give us a call and let us help keep you safely and economically on the road. We serve Wichita and the surrounding areas.