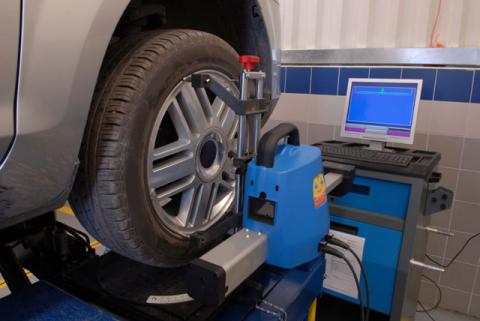 Four wheel alignment is an adjustment, Auto Smart South, located in Wichita, can make on your vehicle to ensure the tires are calibrated to 'point' straight ahead. Proper wheel alignment using laser alignment makes a vehicle steer easily and allows tires to wear evenly. We recommend a 4-wheel alignment annually to extend the life of your tires. An alignment should always be performed after installing new tires.
Another advantage of proper alignment is the handling of your car. Laser alignment ensures your vehicle handles correctly and helps increase the life and performance of your tires. Impacts such as potholes and railroad crossings, as well as more severe circumstances, such as accidents, can knock your car out of precision alignment. You should have an alignment if you see uneven wear on your tires, your steering is off, or if you have recently had an impact.
Wheel Alignment and Tire Balance
If you notice unusual tire wear or that your vehicle "pulls" one way or the other, the wheel alignment may need to be adjusted. If you notice your vehicle vibrating on a smooth road, your tires may be out of balance.
A tire that is out of balance often affects ride quality and can shorten the life of tires, bearings, shocks and other suspension components. A speed-dependent vibration—becoming noticeable around 45 mph and increasing as speed increases—is probably balance-related.
Call us for an appointment at (316) 440-4400, or stop in and see us at 3144 Southeast Blvd at the first sign of pulling or poor tire wear.